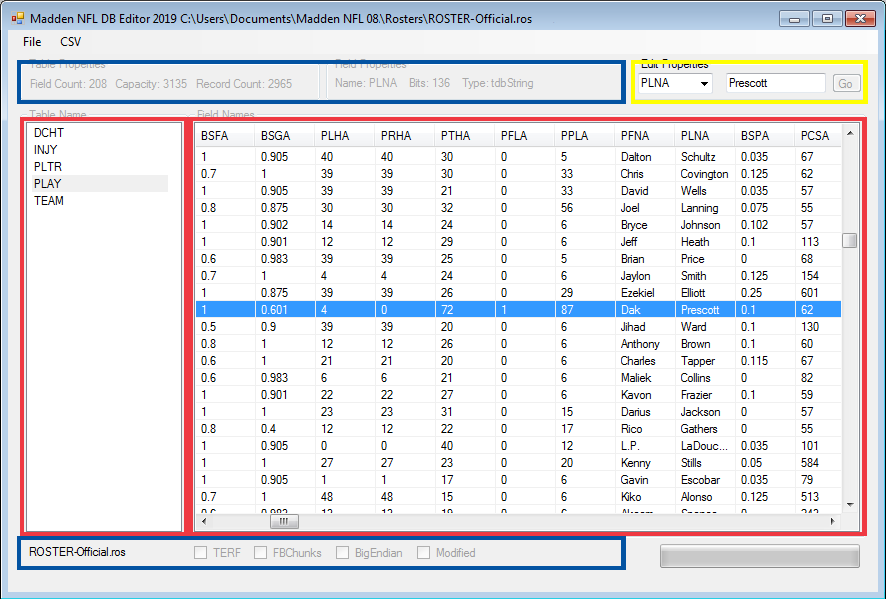 Update For Madden 21
A redesigned version of the DB editor with a new name. CSV import bugs fixed, Madden 04 - Madden 08 files, Madden 19/20 rosters, MC02 and possibly other console rosters, definitions file.
FEATURES
The main key feature is that edits are done in memory and to do not take affect until you save the file.
CSV/Tab Delimited
Export Table - Export current table.
Import Table - Import to current table.
Export All Tables - Exports all the tables in the db file.
Export Fra2Ros Tables - Exports the tables for a ROS file.
Addendum
- This is a very specific import option, please use caution. Let's assume you want to add the current win/los records only. You would load the TEAM table and if you have the main 32 teams, bears-vikings then the addendum csv file would have the field names for the win/loss and the win/loss for each team.
Some FIELD Types cannot be edited and that is not a DB editor issue, it is how the TDBAccess.dll has it. Be aware of the FIELD size (Bits) as you will encounter an error if you go over its limit. (Unsupported FIELD Types are tdbBinary, tdbVarchar and tdbLongVarchar)
The DB editor can read rosters, franchise and db files you are accustom too, plus Madden 19/20 rosters.
Use at your own risk, no "customer support", backup your files.
Previous Version
Madden Xtreme DB Editor
This works flawlessly with PS3 files, FYI.
-AaronS
Special Thanks,
To StingRay68 for his insights, direction and for most of the heavy lifting in this project.