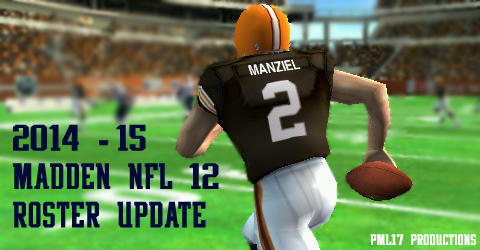 This is a 2014-15 NFL roster for Madden NFL 12 for PSP. Below is a detailed list of features :
NOTE : This is a Offense Player Roster update ONLY. What does that mean? It means that ONLY QB, RB, FB, WR, TE, K/P are updated both team and rating wise. Some Defense Player moves have been(I.E. Revis to NE), but not all. I did this for both time reasons(Spent this past weekend doing this) and I only really care for Offense Players. If anyone would like to go though the Defense Players, feel free.
What's Included :
Madden NFL 25 OVR's for every QB, RB, FB, WR, TE, K/P on a team. (Based on the Last Update)
Accurate OFF plus ST Depth Charts based on OurLads. Player ratings reflected them and jersey #'s.
Some 2014 NFL Rookies (Not all of them due to restrictions, but ones to fill their teams holes)
All off season free agency moves and trades updated (Not 100%, but most offense player moves done)
Most Retired Players Removed
Works in Franchise Mode
Questions? Feel free to ask!
Uniform Guide :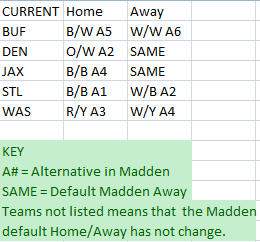 DOWNLOAD
: v1 6/30/14