Week 1

A warm and humid opener in Tampa with the mercury topping out at 86 degrees.
Jeris White is all fired up after making a tackle.
Gary Huff throws a 22-yard TD to Isaac Hagins for the game's first score.
Ron Jaworski answers with a 9-yard strike to Harold Carmichael.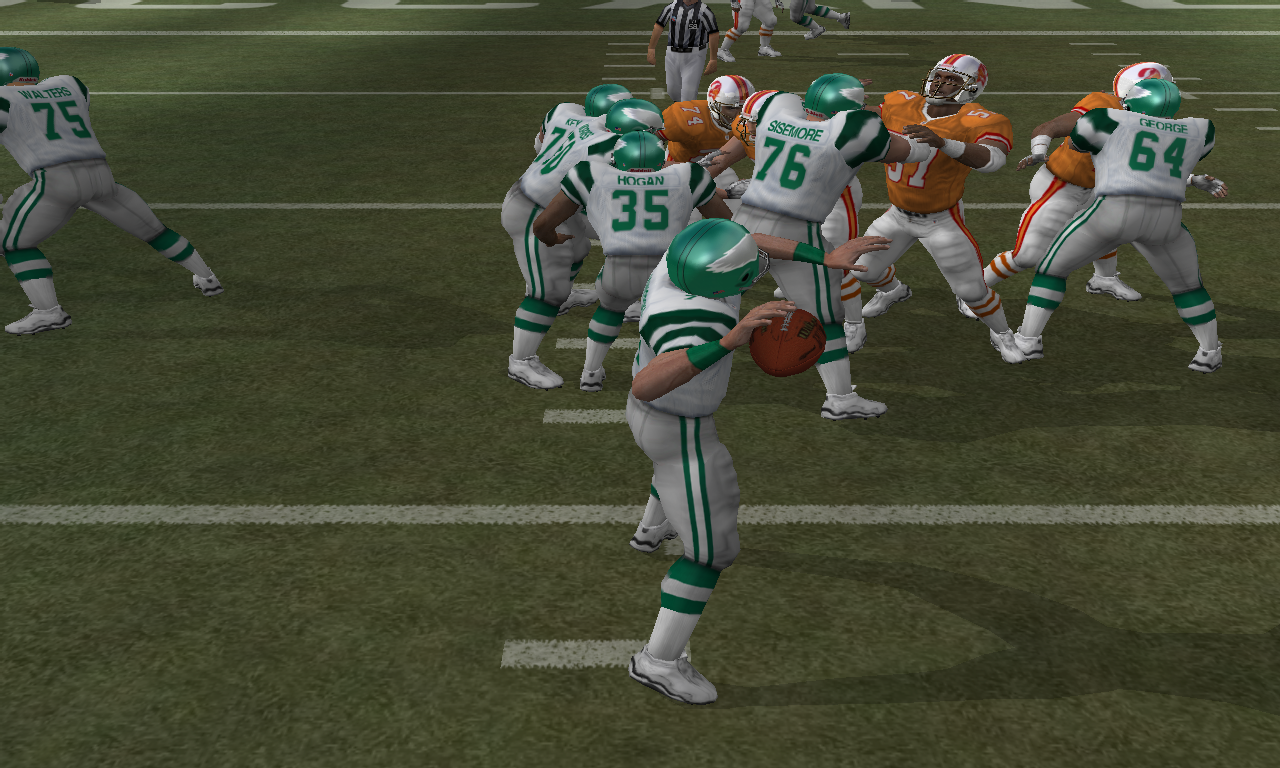 Charlie Smith and Mike Washington battle away from the play.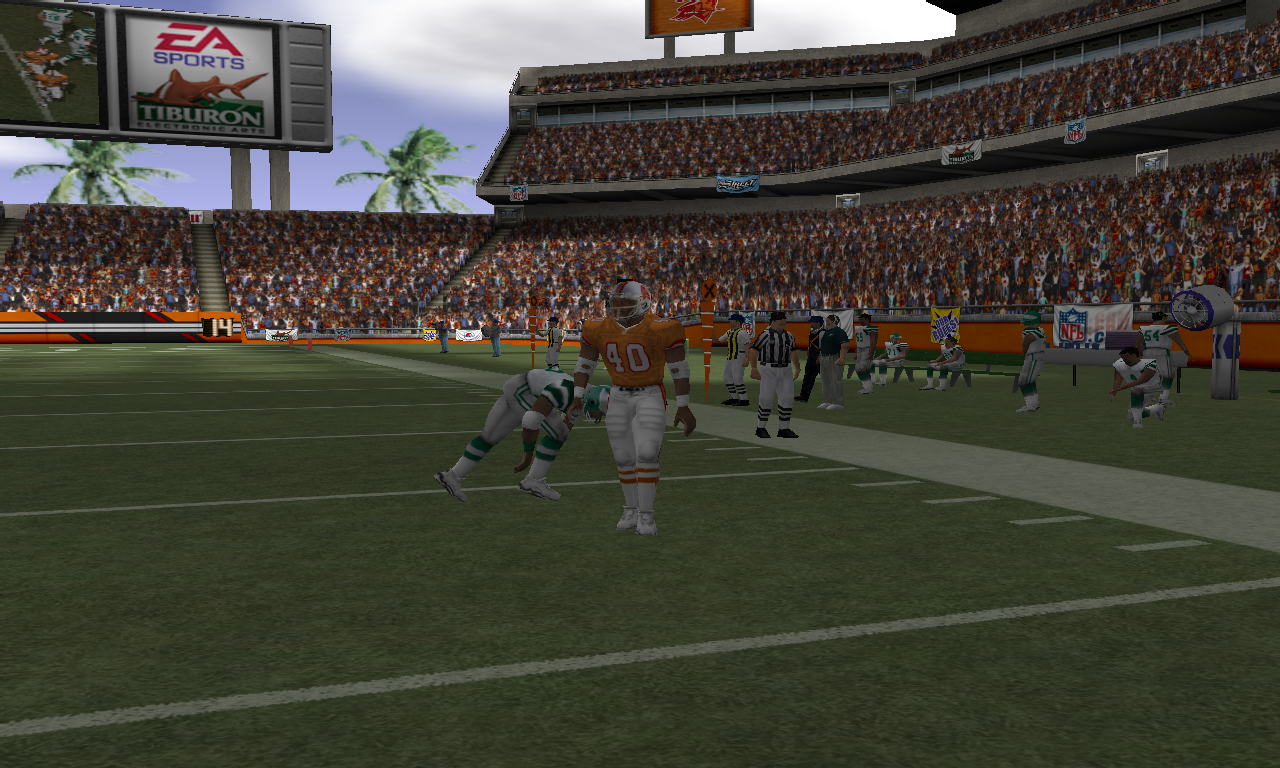 Allan Leavitt boots a 22-yarder to give the Bucs the lead at halftime.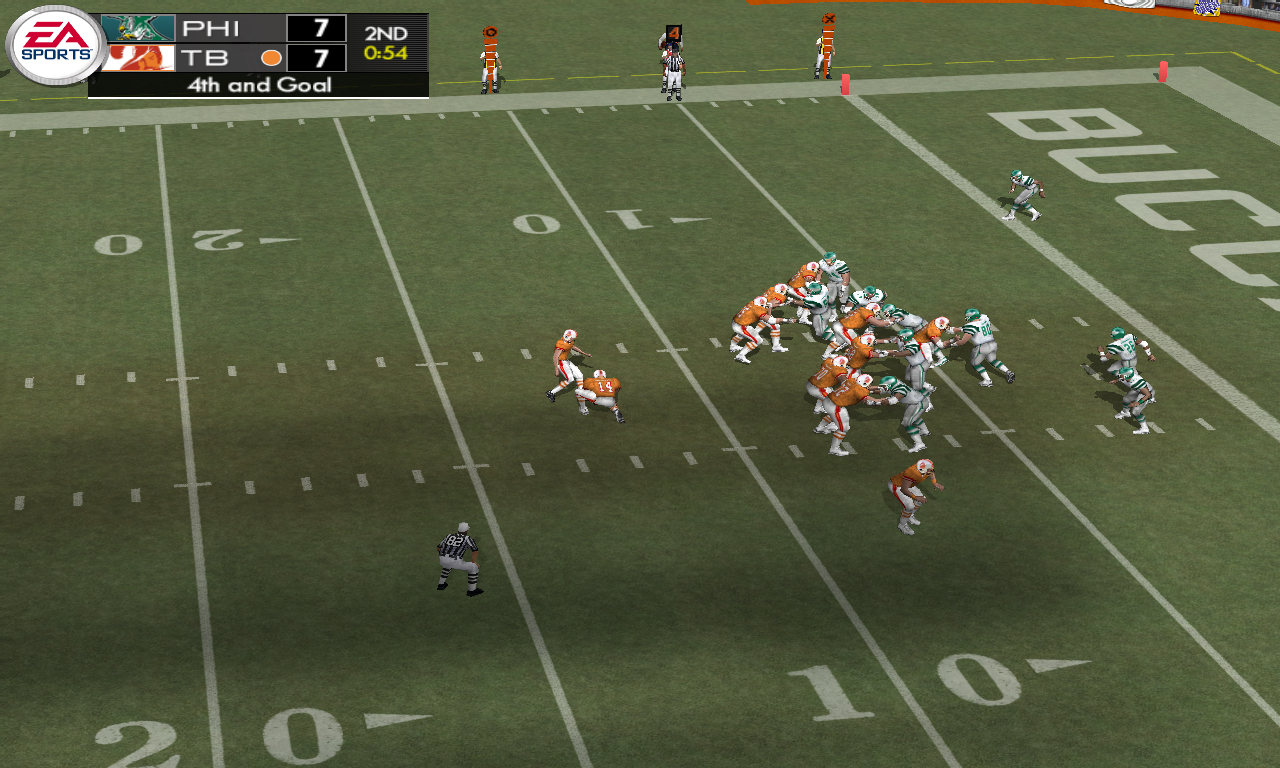 The Eagles huddle up early in the third quarter.
Horst Muhlmann ties it with a 42-yard field goal.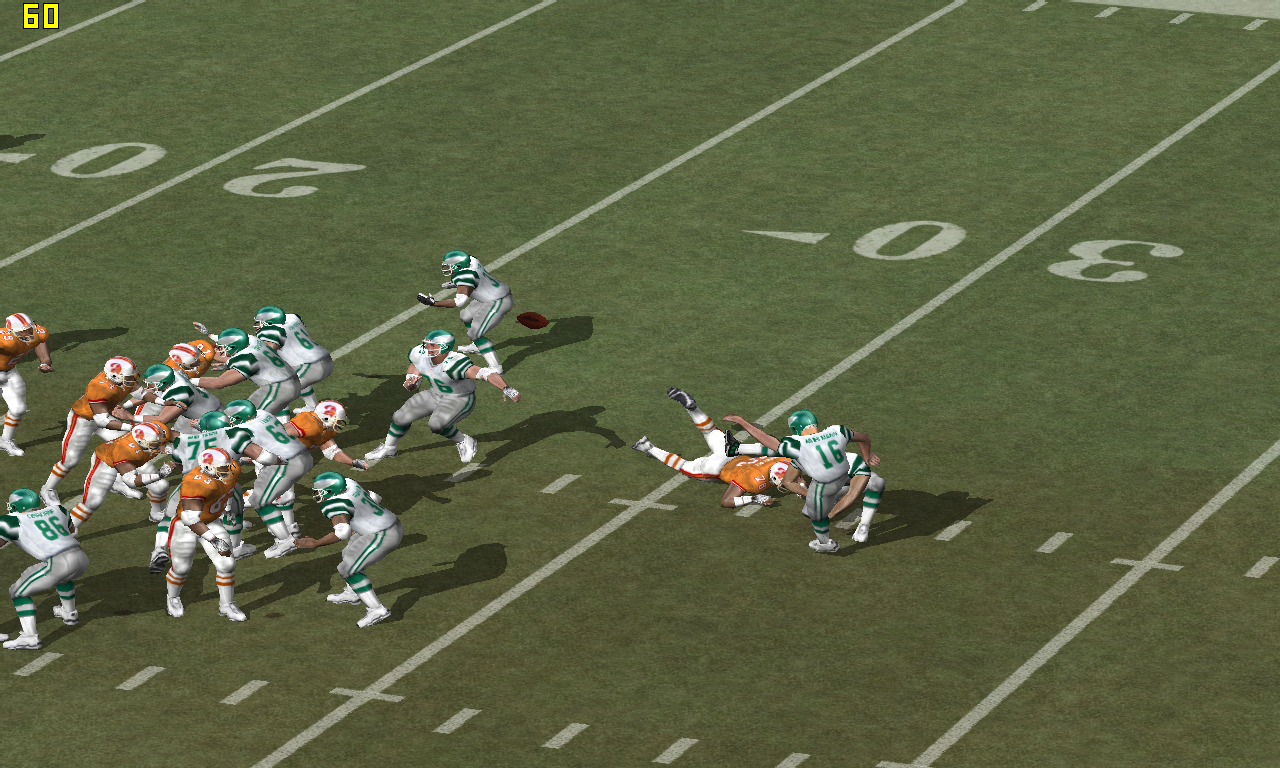 Philadelphia takes its first lead on a 4-yard run by fullback James Betterson.
After a sack by Manny Sistrunk that jarred the ball loose from Gary Huff and was recovered on the 3 by Randy Logan, Roman Gabriel runs a play-fake and then hits Charlie Smith for the TD.
Charlie Smith had 6 catches for 55 yards and a TD.
Horst Muhlmann adds a 36-yarder.
First-round pick Ricky Bell was held to 16 yards on 8 carries.
Charlie Smith is laid out by Dewey Selmon but hangs on to the ball.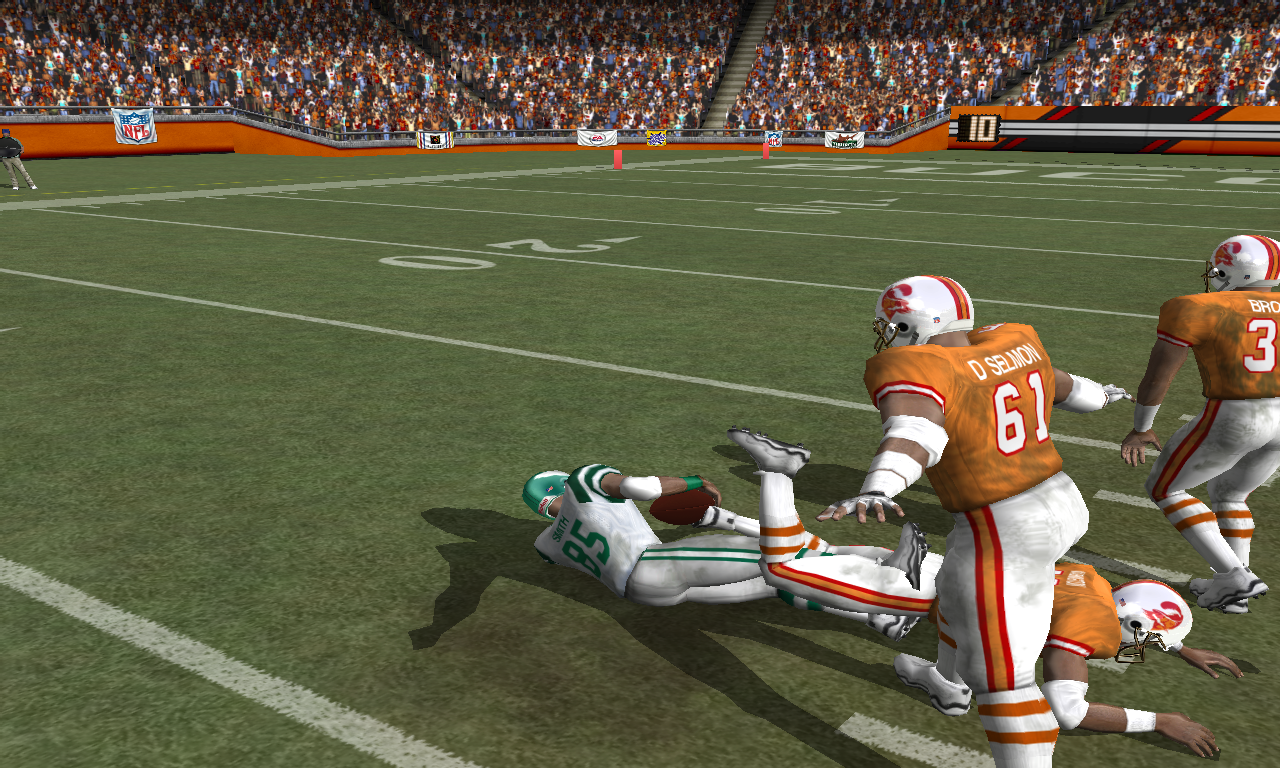 Dewey Selmon picks up a Mike Hogan fumble at the goal line.
Two plays later, Gary Huff is sacked in the end zone for a safety by Mark Mitchell.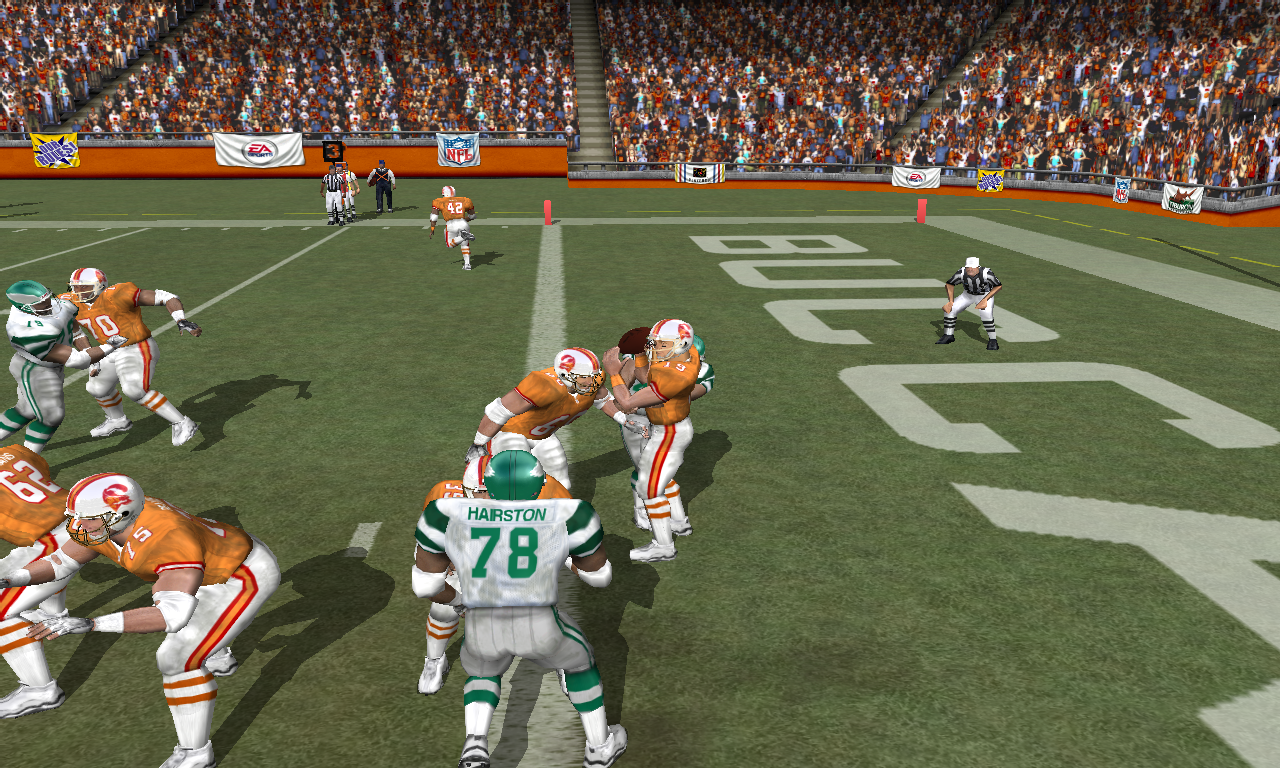 Ron Jaworski hands off to Tom Sullivan for a gain of 14.
Tom Sullivan carries for another 14.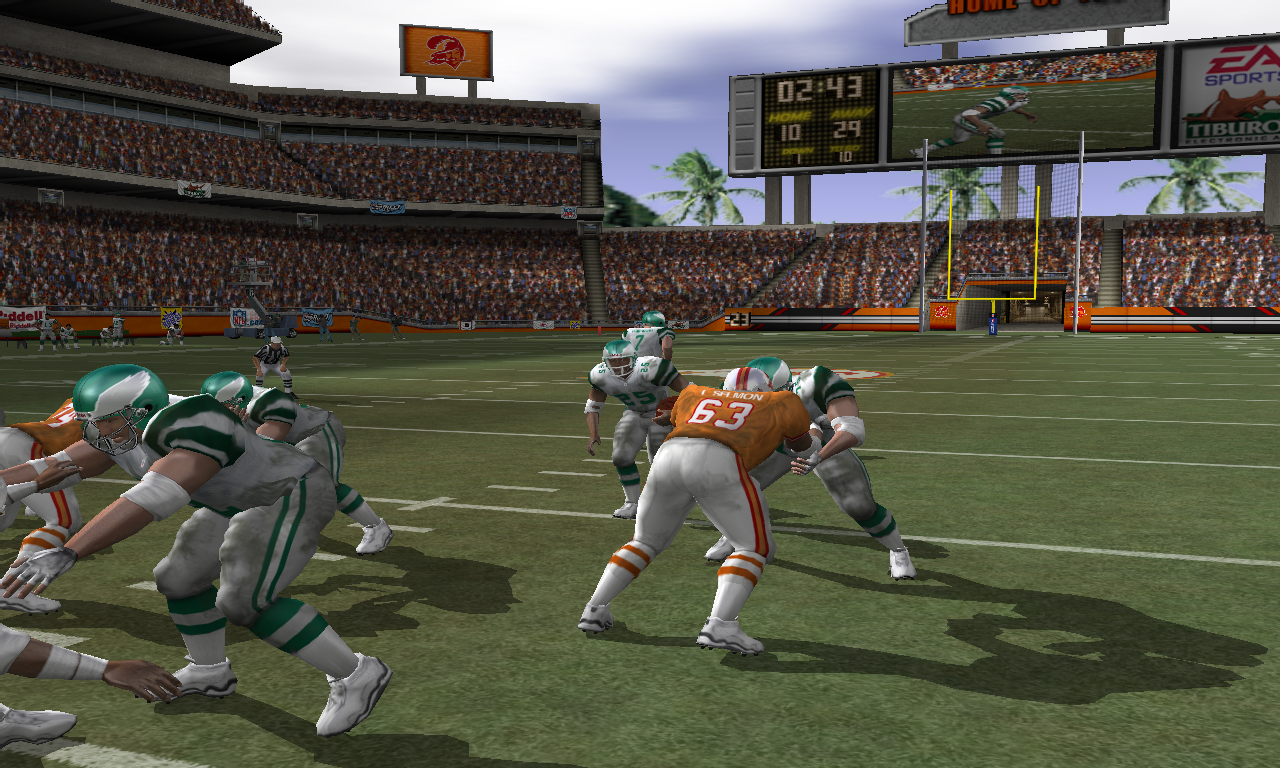 And Sullivan would cap the drive on this play with a 1-yard plunge.
The Philadelphia Eagles put up 26 unanswered points in the second half to run away in the season opener.
Code: Select all
Madden NFL 2004 PC v4.1.0.0 Game Log - Eagles at Buccaneers
Game Time: Mon Dec 19 00:13:42 2016
Skill Level: All Pro
Quarter Length: 12 minute(s)

Slider Human CPU
QB Accuracy 50 32
Pass Blocking 40 3
Receiver Catching 50 48
Running Ability 55 65
Offensive line Run Blocking 60 42
Defensive Awareness 30 25
Defensive line Knockdowns 40 4
Interceptions 50 8
Defensive Break Blocks 30 3
Tackling 40 50
Fieldgoal Length 49 49
Fieldgoal Accuracy 20 25
Punt Length 78 78
Punt Accuracy 60 60
Kickoff Length 50 62

Weather
Forecast: Fair
Wind: 3 mph
Temp: 86 degrees

Team Q1 Q2 Q3 Q4 OT FINAL
Eagles 0 7 17 12 0 36
Buccaneers 7 3 0 0 0 10

Game Statistics: Eagles Buccaneers
First Downs 22 11
Third Down Conversions 9 5
Third Downs 16 12
Third Down Percentage 56.3% 41.7%
Forth Down Conversions 0 0
Fourth Downs 0 0
Fourth Down Percentage 0.0% 0.0%
Two Pt Conversions Made 0 0
Two Pt Conversions Attempted 0 0
Two Pt Conversion Percentage 0.0% 0.0%
Offense Redzone Num 7 2
Offense Redzone TDs 4 1
Offense Redzone FGs 1 1
Offense Redzone Percentage 71.4% 100.0%
Rushing Attempts 40 13
Rushing Yards 107 22
Rushing Average 2.7 1.7
Rushing TDs 2 0
Passing Yards 267 175
Passing Completions 23 16
Passing Attempts 34 37
Completion Percentage 67.6% 43.2%
Passing Average 7.9 4.7
Passing TDs 2 1
Offensive Pass Interceptions 0 2
TOTAL OFFENSE 374 197
Defensive Pass Interceptions 2 0
Punt Return Yards 15 0
Kick Return Yards 78 88
Punts 2 4
Punt Avg 42.5 38.0
Fumbles 2 1
Fumbles Lost 1 1
Penalties 1 3
Penalty Yds 10 19
Turnovers 1 3
TIME OF POSSESSION 32:26 15:34

Individual Stats: Buccaneers
PASSING CMP ATT YDS PCT YPA SACK TD INT LONG RATING
Gary Huff 16 37 187 43 5.0 3 1 2 32 45.6

RUSHING ATT YDS AVG LONG TD FUM
Ricky Bell 8 16 2.0 5 0 0
Jimmy DuBose 1 5 5.0 5 0 0
Anthony Davis 4 1 0.2 4 0 0

RECEIVING REC YDS AVG LONG TD DROP YAC
Morris Owens 3 54 18.0 32 0 0 5
Isaac Hagins 3 40 13.3 22 1 2 3
J.K. McKay 3 37 12.3 19 0 2 4
Anthony Davis 1 13 13.0 13 0 0 11
Jimmy DuBose 1 12 12.0 12 0 2 16
Ricky Bell 2 12 6.0 10 0 0 16
Jack Novak 1 10 10.0 10 0 0 6
Dana Nafziger 2 9 4.5 13 0 0 3
Larry Mucker 0 0 0.0 0 0 1 0

KICKING FGM FGA PCT FGSBLOCKED XPA XPM PCT XPSBLOCKED KICKOFFS TOUCHBACKS
Allan Leavitt 1 1 100 0 1 1 100 0 3 0
Dave Green 0 0 0 0 0 0 0 0 1 0

PUNTING ATT YDS AVG LONG BLOCKS IN20 TOUCHBACKS
Dave Green 4 152 38.0 44 0 0 0

KICK RETURNS ATT YDS AVG TD LONG
Isaac Hagins 3 56 18.6 0 21
Anthony Davis 2 32 16.0 0 16

PUNT RETURNS ATT YDS AVG LONG TD
Isaac Hagins 0 0 0.0 0 0
Anthony Davis 0 0 0.0 0 0

DEFENSE TOT LOSS SACK FF FREC YDS TD INT RET AVG DEFLECTIONS SAFETIES
Dewey Selmon 10 1 1 0 1 4 0 0 0 0.0 0 0
Cedric Brown 6 1 0 0 0 0 0 0 0 0.0 0 0
Curtis Jordan 6 0 0 0 0 0 0 0 0 0.0 1 0
Mark Cotney 6 0 0 0 0 0 0 0 0 0.0 1 0
David Lewis 5 0 0 0 0 0 0 0 0 0.0 0 0
Cecil Johnson 5 2 0 0 0 0 0 0 0 0.0 0 0
Jeris White 3 1 0 0 0 0 0 0 0 0.0 1 0
Mike Washington 3 0 0 0 0 0 0 0 0 0.0 1 0
Council Rudolph 3 1 0 0 0 0 0 0 0 0.0 1 0
Dave Pear 3 2 0 0 0 0 0 0 0 0.0 0 0
Charley Hannah 2 1 0 0 0 0 0 0 0 0.0 0 0
Earl Douthitt 2 0 0 0 0 0 0 0 0 0.0 0 0
Paul Harris 2 1 0 0 0 0 0 0 0 0.0 0 0
Harry Howard 2 0 0 0 0 0 0 0 0 0.0 0 0
Danny Reece 1 0 0 0 0 0 0 0 0 0.0 0 0
Mike Lemon 1 1 0 1 0 0 0 0 0 0.0 0 0
Ricky Bell 1 0 0 0 0 0 0 0 0 0.0 0 0
Jeff Winans 1 0 0 0 0 0 0 0 0 0.0 0 0
Lee Roy Selmon 1 1 0 0 0 0 0 0 0 0.0 0 0
Ed Williams 1 0 0 0 0 0 0 0 0 0.0 0 0
Richard Wood 1 0 0 0 0 0 0 0 0 0.0 0 0
Morris Owens 1 0 0 0 0 0 0 0 0 0.0 0 0

BLOCKING PANCAKES SACKS ALLOWED
Dave Reavis 3 0
Jeff Winans 1 0
Jimmy DuBose 1 0
Darryl Carlton 1 2
Dan Medlin 1 0


Individual Stats: Eagles
PASSING CMP ATT YDS PCT YPA SACK TD INT LONG RATING
Ron Jaworski 9 13 115 69 8.8 1 1 0 28 122.2
Roman Gabriel 14 21 159 66 7.5 0 1 0 28 105.0

RUSHING ATT YDS AVG LONG TD FUM
Mike Hogan 25 58 2.3 10 0 1
Tom Sullivan 10 37 3.6 14 1 0
James Betterson 4 15 3.7 6 1 1
Wilbert Montgomery 1 -3 -3.0 0 0 0

RECEIVING REC YDS AVG LONG TD DROP YAC
Harold Carmichael 4 74 18.5 28 1 0 7
Keith Krepfle 5 66 13.1 20 0 1 16
Charlie Smith 6 55 9.1 14 1 1 9
Wally Henry 2 47 23.5 28 0 0 19
Mike Hogan 3 30 10.0 17 0 2 3
Tom Sullivan 1 2 2.0 2 0 1 3
James Betterson 2 0 0.0 5 0 0 5

KICKING FGM FGA PCT FGSBLOCKED XPA XPM PCT XPSBLOCKED KICKOFFS TOUCHBACKS
Horst Muhlmann 2 4 50 0 4 4 100 0 0 0
Ove Johansson 0 0 0 0 0 0 0 0 6 1

PUNTING ATT YDS AVG LONG BLOCKS IN20 TOUCHBACKS
Spike Jones 2 85 42.5 44 0 1 1

KICK RETURNS ATT YDS AVG TD LONG
Larry Marshall 3 61 20.3 0 23
Wilbert Montgomery 1 17 17.0 0 17
Wally Henry 0 0 0.0 0 0

PUNT RETURNS ATT YDS AVG LONG TD
Wally Henry 1 8 8.0 8 0
Larry Marshall 1 7 7.0 7 0
Wilbert Montgomery 0 0 0.0 0 0

DEFENSE TOT LOSS SACK FF FREC YDS TD INT RET AVG DEFLECTIONS SAFETIES
Eric Johnson 5 0 1 0 0 0 0 0 0 0.0 0 0
Bill Bergey 4 1 0 0 0 0 0 0 0 0.0 1 0
Randy Logan 4 0 0 0 1 0 0 1 20 20.0 3 0
John Bunting 4 3 0 0 0 0 0 0 0 0.0 0 0
Herman Edwards 3 0 0 0 0 0 0 1 4 4.0 1 0
Larry Marshall 2 0 0 0 0 0 0 0 0 0.0 1 0
Mark Mitchell 2 0 1 0 0 0 0 0 0 0.0 1 1
Drew Mahalic 2 1 0 0 0 0 0 0 0 0.0 0 0
John Sanders 2 0 0 0 0 0 0 0 0 0.0 0 0
Guy Morriss 1 0 0 0 0 0 0 0 0 0.0 0 0
Manny Sistrunk 1 0 1 1 0 0 0 0 0 0.0 0 0
Frank LeMaster 1 0 0 0 0 0 0 0 0 0.0 0 0
Cliff Brooks 1 0 0 0 0 0 0 0 0 0.0 0 0
Charlie Johnson 1 0 0 0 0 0 0 0 0 0.0 0 0
John Outlaw 1 0 0 0 0 0 0 0 0 0.0 1 0

BLOCKING PANCAKES SACKS ALLOWED
Wade Key 5 0
Stan Walters 5 0
Jerry Sisemore 4 0
Guy Morriss 3 1
Harold Carmichael 1 0


Game Log Ends
------------------------------------------------------------