1986 Buffalo Bills
(4-12)
at
2008 St. Louis Rams
(2-14)
The '86 Bills open the scoring when Robb Riddick takes a pitch and goes in from 13 yards out.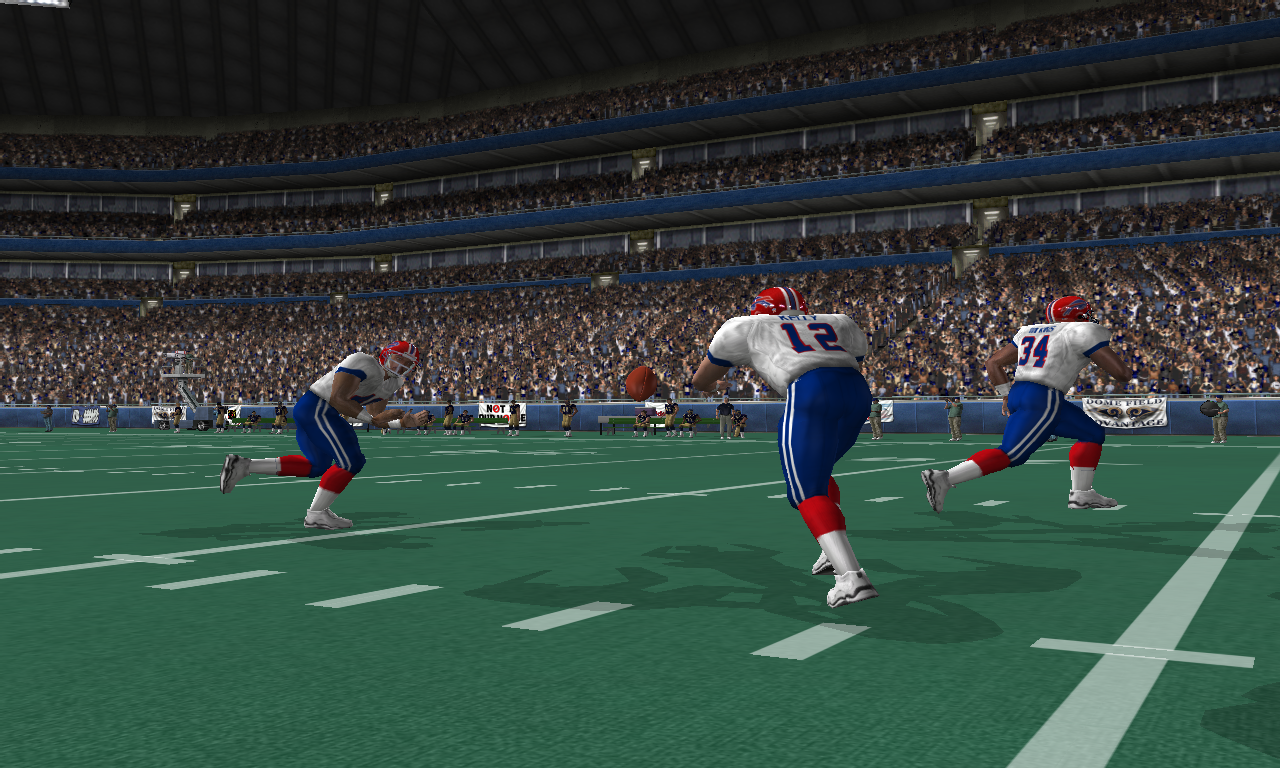 Marc Bulger had a great day slinging the pigskin, going 24 of 33 for 351 yards.
The '08 Rams tie the game on the last play of the first quarter when Bulger connected with Randy McMichael on a 47-yard score.
After Steve Tasker returned the ensuing kickoff 95 yards to the Rams' 1, Riddick went in for his second TD.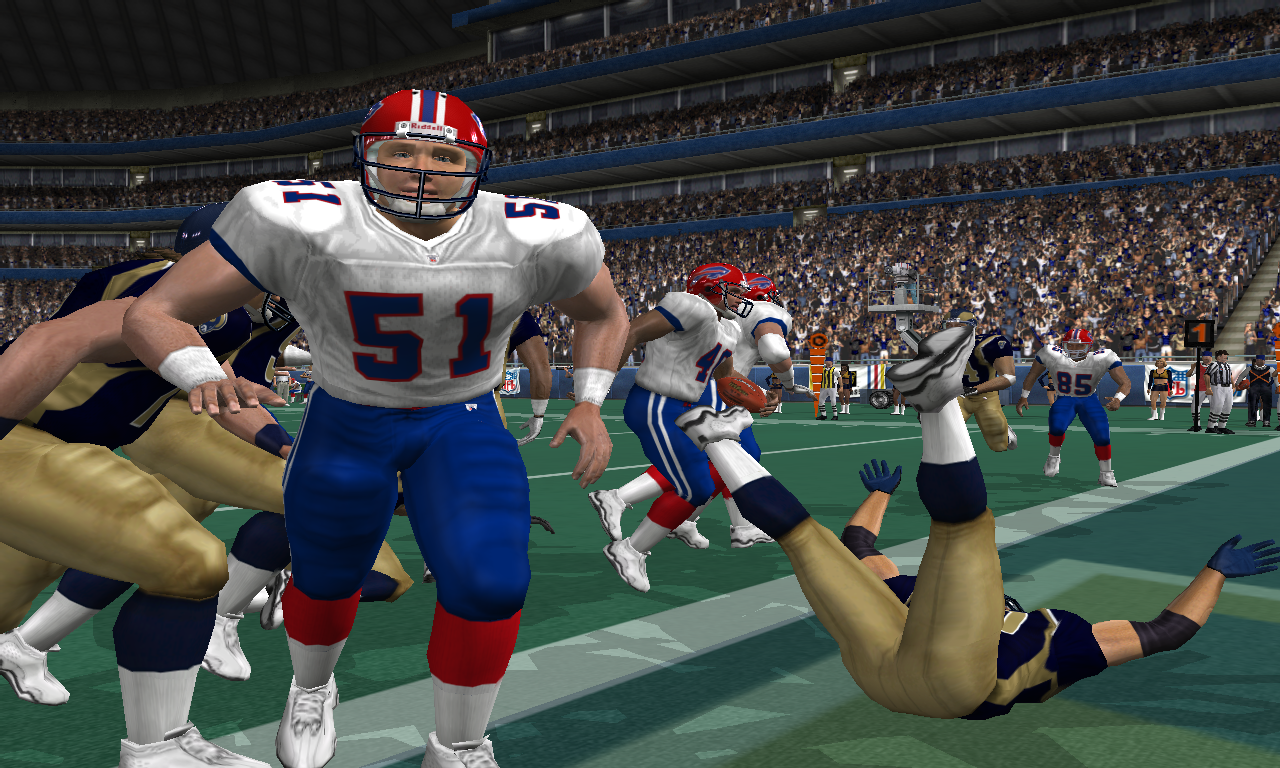 An interception by Derrick Burroughs led to a 5-yard TD pass from Jim Kelly to Chris Burkett.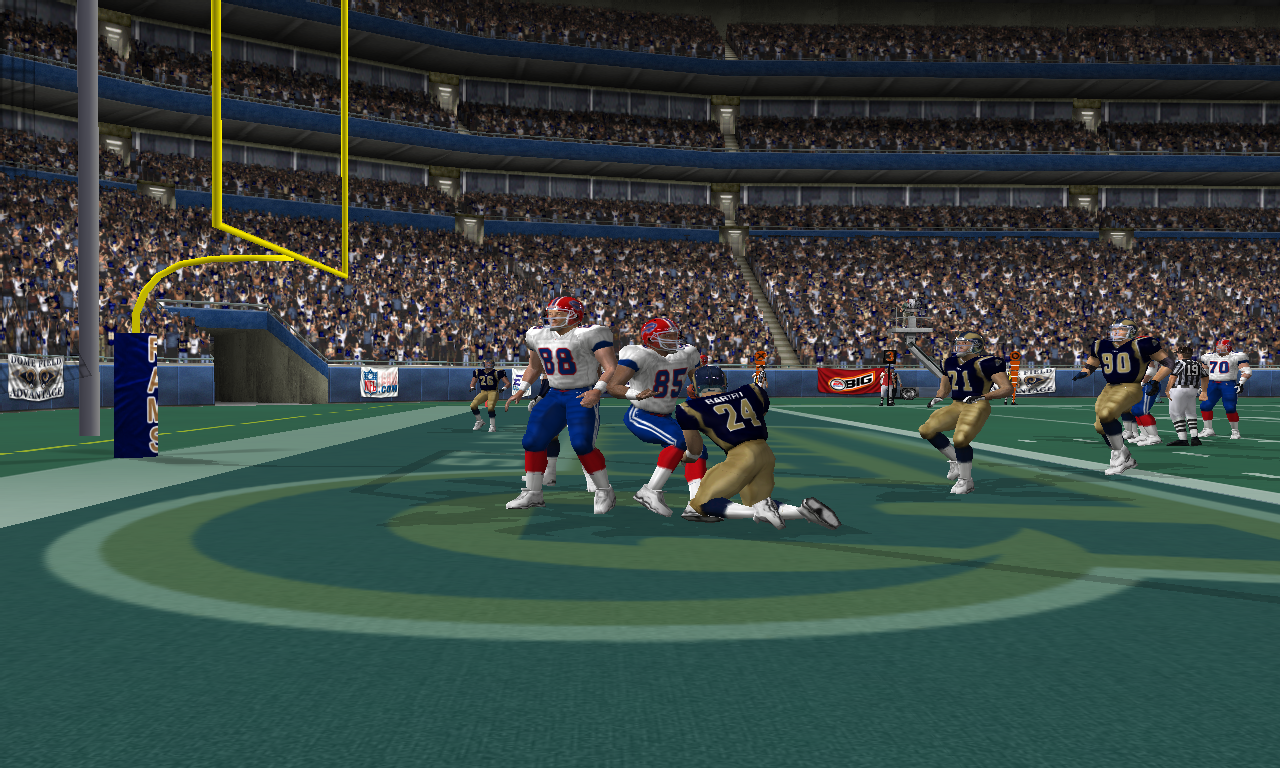 Steven Jackson gained 96 yards on 22 carries.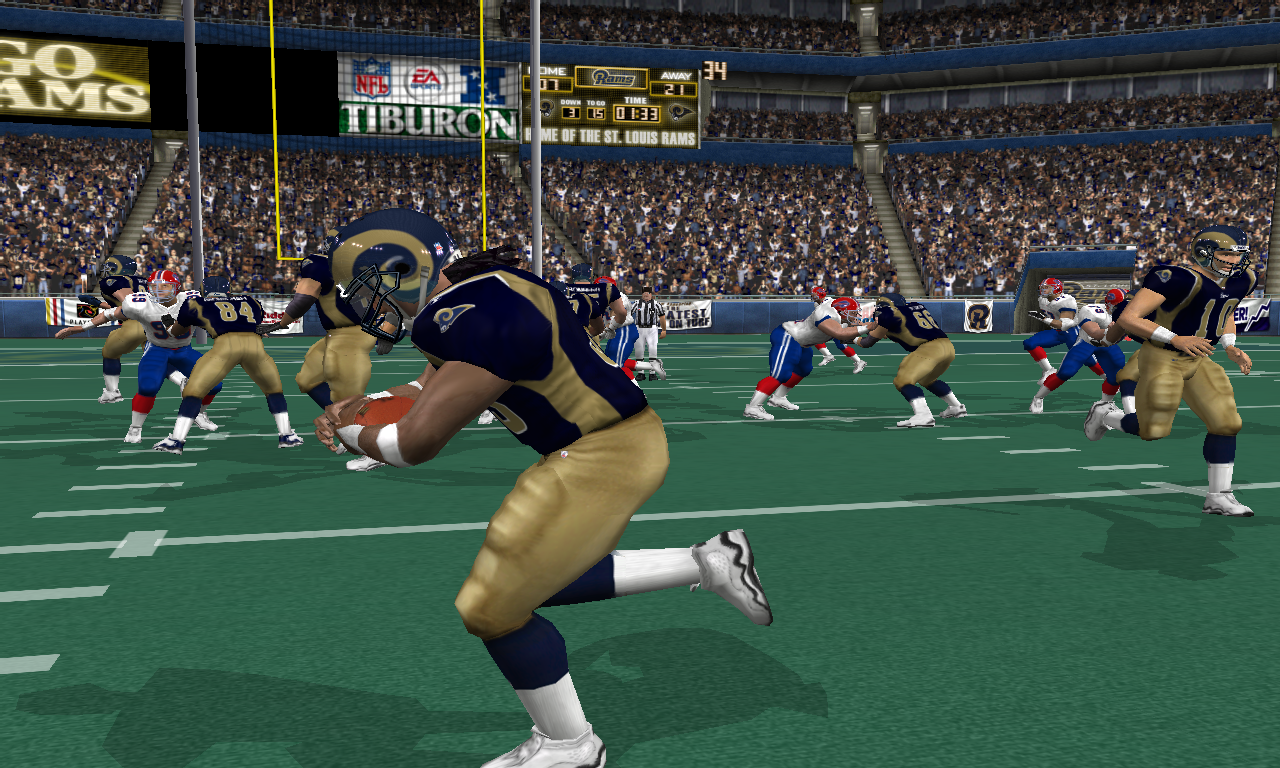 A Pisa Tinoisamoa interception led to this 1-yard run by Steven Jackson to bring the Rams to within 21-17.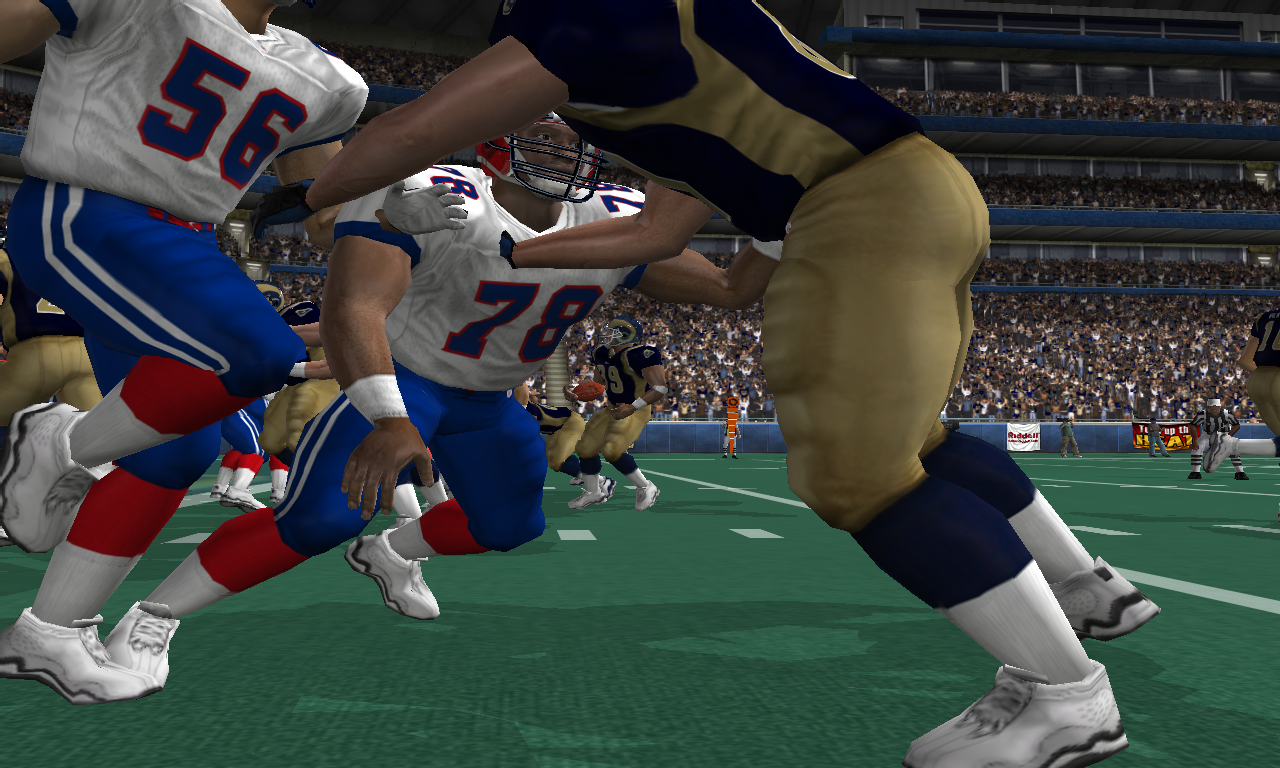 The '08 Rams tie the game again early in the third quarter on this 36-yard pass from Marc Bulger to Reche Caldwell.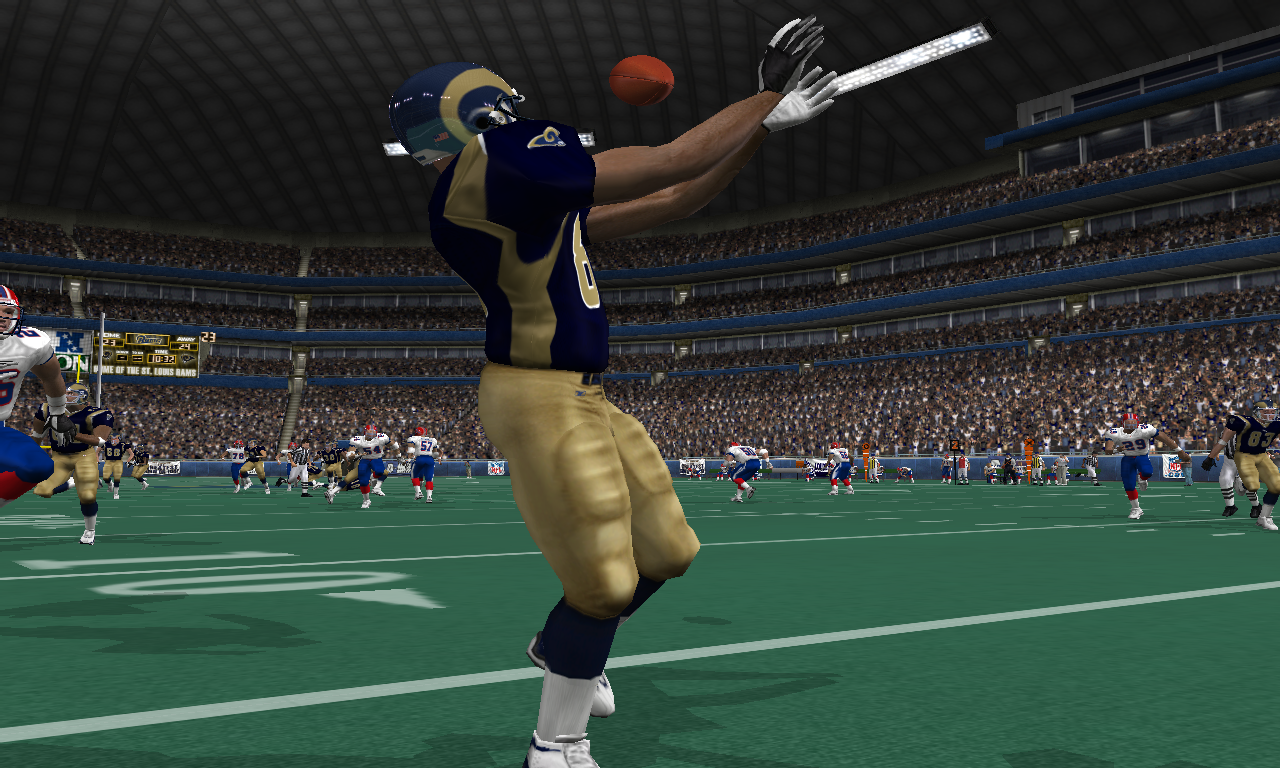 Antonio Pittman (#30) runs behind a wall of blockers for a 22-yard TD to give the '08 Rams their first lead.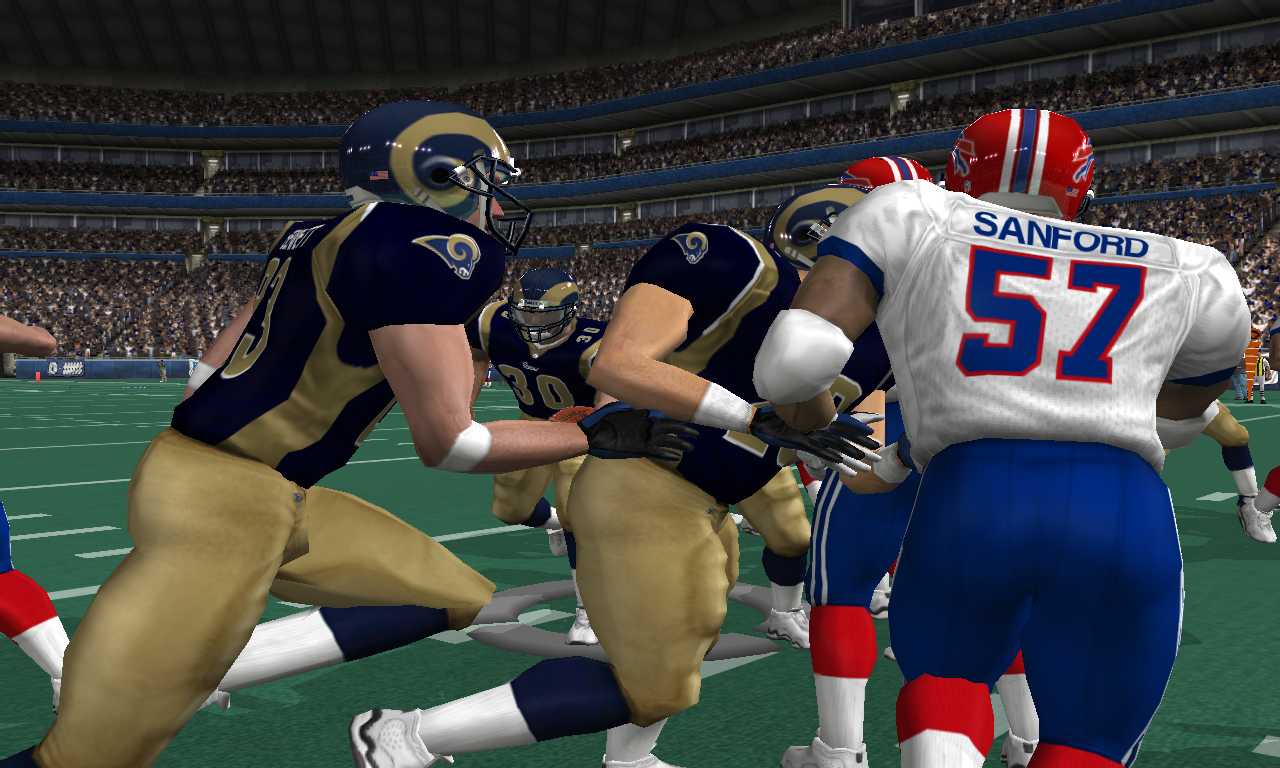 The St. Louis Rams offense huddles up.
The '86 Bills would tie the game with 2:40 remaining on a QB sneak by Jim Kelly.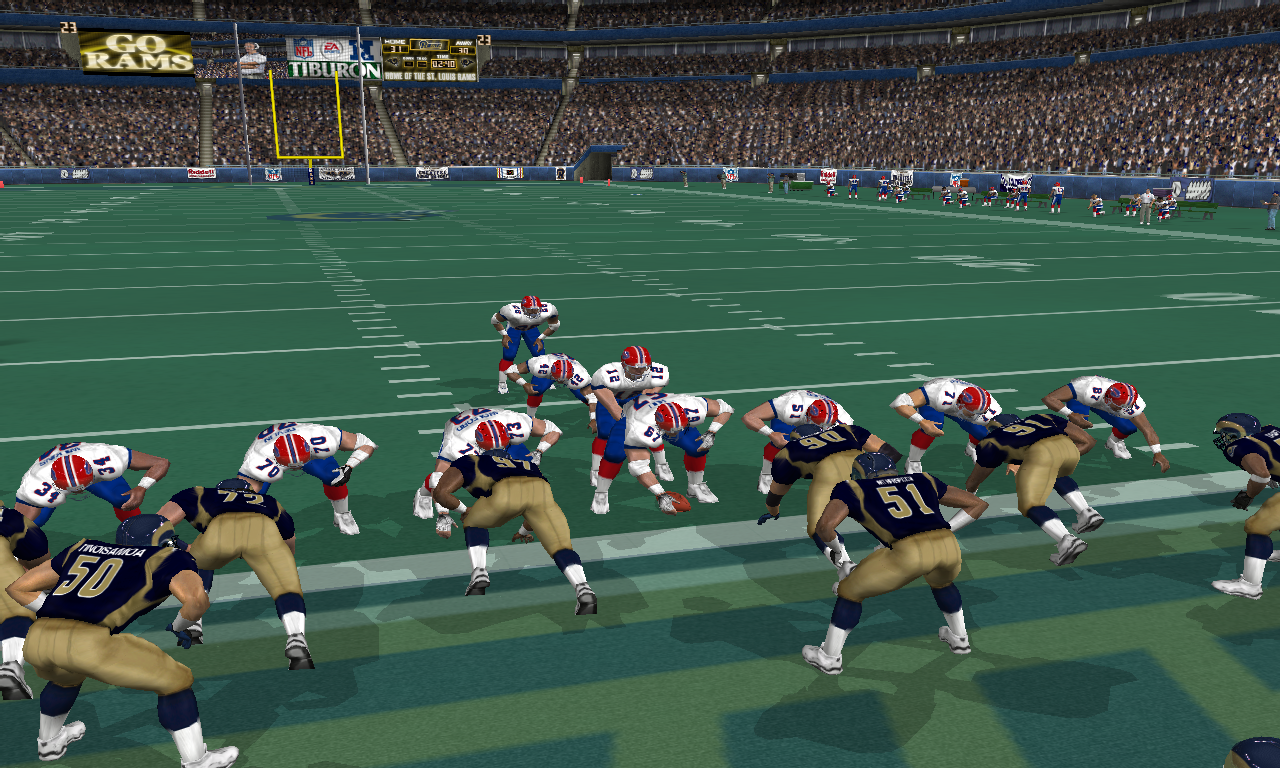 But the celebration was short-lived as Steven Jackson countered with a 71-yard romp a short time later.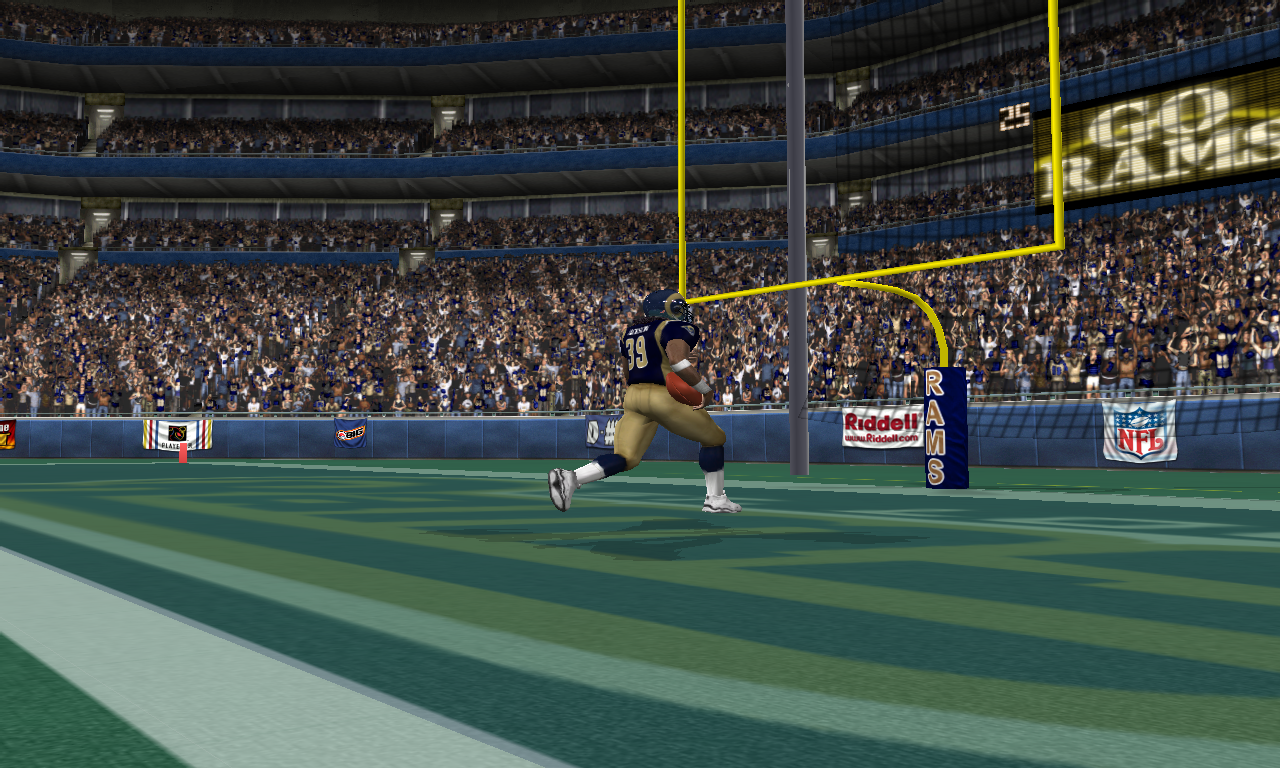 Jim Kelly and the Bills' offense in desperation mode in the final minutes.
But the Rams hold on for the victory.
Steven Jackson earns MVP honors.
Code: Select all
Madden NFL 2004 PC v4.1.0.0 Game Log - 86 Bills at Rams
Game Time: Sat Nov 05 23:24:04 2016
Skill Level: All Pro
Quarter Length: 12 minute(s)

Slider Human CPU
QB Accuracy 50 32
Pass Blocking 50 3
Receiver Catching 50 48
Running Ability 50 65
Offensive line Run Blocking 50 42
Defensive Awareness 50 25
Defensive line Knockdowns 50 4
Interceptions 50 8
Defensive Break Blocks 50 3
Tackling 50 50
Fieldgoal Length 50 49
Fieldgoal Accuracy 50 25
Punt Length 50 78
Punt Accuracy 50 60
Kickoff Length 50 62

Weather
Forecast: Fair
Wind: 0 mph
Temp: 79 degrees

Team Q1 Q2 Q3 Q4 OT FINAL
86 Bills 7 17 0 7 0 31
Rams 7 10 14 7 0 38

Game Statistics: 86 Bills Rams
First Downs 16 12
Third Down Conversions 4 8
Third Downs 13 16
Third Down Percentage 30.8% 50.0%
Forth Down Conversions 0 0
Fourth Downs 2 0
Fourth Down Percentage 0.0% 0.0%
Two Pt Conversions Made 0 0
Two Pt Conversions Attempted 0 0
Two Pt Conversion Percentage 0.0% 0.0%
Offense Redzone Num 5 2
Offense Redzone TDs 4 1
Offense Redzone FGs 1 1
Offense Redzone Percentage 100.0% 100.0%
Rushing Attempts 20 30
Rushing Yards 81 125
Rushing Average 4.0 4.2
Rushing TDs 3 3
Passing Yards 243 329
Passing Completions 22 24
Passing Attempts 44 33
Completion Percentage 50.0% 72.7%
Passing Average 5.5 10.0
Passing TDs 1 2
Offensive Pass Interceptions 1 1
TOTAL OFFENSE 324 454
Defensive Pass Interceptions 1 1
Punt Return Yards 30 0
Kick Return Yards 193 108
Punts 6 6
Punt Avg 45.0 37.7
Fumbles 2 1
Fumbles Lost 1 0
Penalties 1 0
Penalty Yds 10 0
Turnovers 2 1
TIME OF POSSESSION 20:49 27:11

Individual Stats: Rams
PASSING CMP ATT YDS PCT YPA SACK TD INT LONG RATING
Marc Bulger 24 33 351 72 10.6 4 2 1 53 114.5

RUSHING ATT YDS AVG LONG TD FUM
Steven Jackson 22 96 4.3 71 2 0
Antonio Pittman 5 20 4.0 22 1 0
Marc Bulger 3 9 3.0 11 0 1

RECEIVING REC YDS AVG LONG TD DROP YAC
Drew Bennett 6 93 15.5 35 0 0 19
Reche Caldwell 4 75 18.7 36 1 0 9
Steven Jackson 3 69 23.0 53 0 1 55
Randy McMichael 3 62 20.6 47 1 0 39
Donnie Avery 1 24 24.0 24 0 0 2
Antonio Pittman 1 18 18.0 18 0 0 23
Dante Hall 2 7 3.5 6 0 0 0
Brian Leonard 2 7 3.5 5 0 0 13
Torry Holt 2 -4 -2.0 1 0 1 0

KICKING FGM FGA PCT FGSBLOCKED XPA XPM PCT XPSBLOCKED KICKOFFS TOUCHBACKS
Josh Brown 1 2 50 0 5 5 100 0 0 0
Donnie Jones 0 0 0 0 0 0 0 0 6 0

PUNTING ATT YDS AVG LONG BLOCKS IN20 TOUCHBACKS
Donnie Jones 6 226 37.6 49 0 0 1

KICK RETURNS ATT YDS AVG TD LONG
Jonathan Wade 4 78 19.5 0 26
Dante Hall 2 30 15.0 0 16

PUNT RETURNS ATT YDS AVG LONG TD
Jonathan Wade 0 0 0.0 0 0
Dante Hall 0 0 0.0 0 0

DEFENSE TOT LOSS SACK FF FREC YDS TD INT RET AVG DEFLECTIONS SAFETIES
Chris Draft 7 3 0 0 0 0 0 0 0 0.0 1 0
Will Witherspoon 4 0 0 0 0 0 0 0 0 0.0 0 0
Corey Chavous 4 0 0 0 0 0 0 0 0 0.0 1 0
Tye Hill 4 0 0 0 0 0 0 0 0 0.0 1 0
Todd Johnson 4 0 0 0 0 0 0 0 0 0.0 0 0
Ronald Bartell 4 1 0 0 0 0 0 0 0 0.0 6 0
O.J. Atogwe 3 0 0 0 0 0 0 0 0 0.0 0 0
David Macklin 3 0 0 1 0 0 0 0 0 0.0 0 0
James Hall 2 1 0 0 0 0 0 0 0 0.0 0 0
Adam Carriker 2 0 0 0 0 0 0 0 0 0.0 0 0
Justin King 2 0 0 0 0 0 0 0 0 0.0 0 0
Fakhir Brown 2 0 0 0 0 0 0 0 0 0.0 0 0
Chris Long 1 0 1 0 0 0 0 0 0 0.0 0 0
Torry Holt 1 0 0 0 0 0 0 0 0 0.0 0 0
Richard Owens 1 0 0 0 0 0 0 0 0 0.0 0 0
Tim McGarigle 1 0 0 0 0 0 0 0 0 0.0 0 0
Jerome Carter 1 0 0 0 0 0 0 0 0 0.0 0 0
La'Roi Glover 1 1 0 0 0 0 0 0 0 0.0 0 0
Pisa Tinoisamoa 1 0 0 0 0 0 0 1 18 18.0 0 0
Anthony Becht 0 0 0 0 1 0 0 0 0 0.0 0 0

BLOCKING PANCAKES SACKS ALLOWED
Jacob Bell 3 1
Alex Barron 3 0
Richie Incognito 2 0
Dante Hall 1 0
Joe Klopfenstein 1 0
Orlando Pace 1 0
Brian Leonard 1 0
Brett Romberg 1 1
Adam Goldberg 0 1


Individual Stats: 86 Bills
PASSING CMP ATT YDS PCT YPA SACK TD INT LONG RATING
Jim Kelly 22 44 246 50 5.5 1 1 1 36 65.1

RUSHING ATT YDS AVG LONG TD FUM
Robb Riddick 10 51 5.0 16 2 0
Carl Byrum 2 13 6.5 7 0 0
Ricky Moore 3 13 4.3 6 0 0
Greg Bell 4 4 1.0 7 0 0
Jim Kelly 1 0 0.0 0 1 0

RECEIVING REC YDS AVG LONG TD DROP YAC
Pete Metzelaars 5 57 11.3 36 0 1 33
Carl Byrum 3 43 14.3 16 0 0 17
Robb Riddick 3 40 13.3 17 0 0 24
Andre Reed 2 29 14.5 25 0 1 9
Jimmy Teal 4 24 6.0 7 0 1 4
Eric Richardson 1 20 20.0 20 0 0 10
Chris Burkett 3 19 6.3 8 1 1 0
Ricky Moore 1 14 14.0 14 0 0 0
Jerry Butler 0 0 0.0 0 0 1 0

KICKING FGM FGA PCT FGSBLOCKED XPA XPM PCT XPSBLOCKED KICKOFFS TOUCHBACKS
Scott Norwood 1 1 100 0 4 4 100 0 6 0

PUNTING ATT YDS AVG LONG BLOCKS IN20 TOUCHBACKS
John Kidd 6 270 45.0 54 0 4 1

KICK RETURNS ATT YDS AVG TD LONG
Steve Tasker 3 131 43.6 0 95
Ronnie Harmon 3 62 20.6 0 24
Ron Pitts 0 0 0.0 0 0

PUNT RETURNS ATT YDS AVG LONG TD
Ron Pitts 3 30 10.0 17 0
Steve Tasker 0 0 0.0 0 0
Ronnie Harmon 0 0 0.0 0 0

DEFENSE TOT LOSS SACK FF FREC YDS TD INT RET AVG DEFLECTIONS SAFETIES
Martin Bayless 7 1 0 0 0 0 0 0 0 0.0 1 0
Darryl Talley 7 1 0 0 0 0 0 0 0 0.0 0 0
Derrick Burroughs 6 0 0 0 0 0 0 1 14 14.0 1 0
Steve Freeman 6 0 0 0 0 0 0 0 0 0.0 0 0
Ray Bentley 5 2 0 0 0 0 0 0 0 0.0 0 0
Sean McNanie 4 0 3 0 0 0 0 0 0 0.0 0 0
Charles Romes 4 1 0 0 0 0 0 0 0 0.0 0 0
Fred Smerlas 4 2 0 0 0 0 0 0 0 0.0 0 0
Eugene Marve 3 0 0 0 0 0 0 0 0 0.0 0 0
Lucious Sanford 2 0 0 0 0 0 0 0 0 0.0 0 0
Bruce Smith 2 1 1 1 0 0 0 0 0 0.0 0 0
Dwight Drane 2 0 0 0 0 0 0 0 0 0.0 0 0
Ron Pitts 1 0 0 0 0 0 0 0 0 0.0 1 0
Greg Bell 1 0 0 0 0 0 0 0 0 0.0 0 0
Mark Kelso 1 0 0 0 0 0 0 0 0 0.0 0 0
Don Smith 1 1 0 0 0 0 0 0 0 0.0 0 0
Rod Hill 0 0 0 0 0 0 0 0 0 0.0 1 0

BLOCKING PANCAKES SACKS ALLOWED
Ken Jones 3 0
Jim Ritcher 2 0
Will Wolford 2 1
Carl Byrum 1 0
Kent Hull 1 0
Chris Burkett 1 0


Game Log Ends
------------------------------------------------------------