Madden NFL DB Editor 2019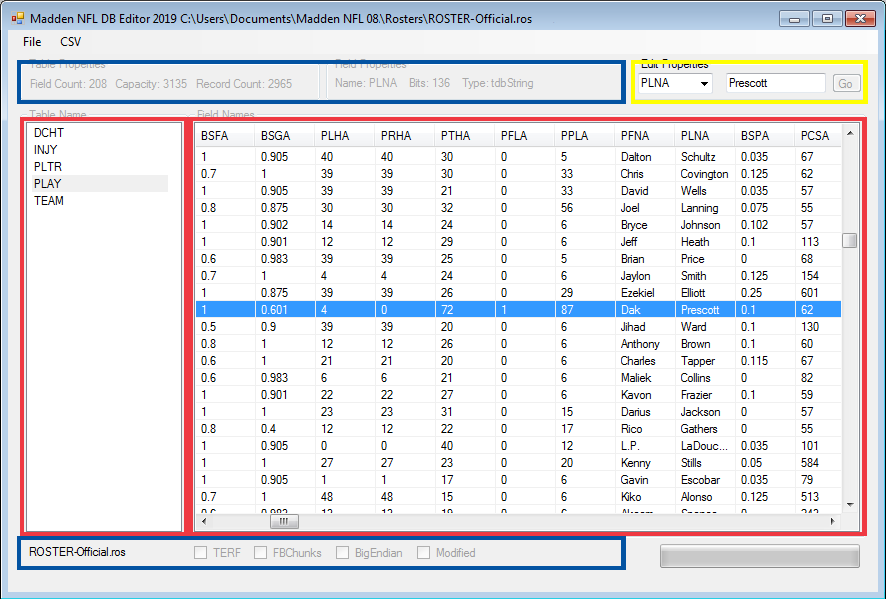 A new DB editor for 2019 brought to you by StingRay68 and yours truly, elguapo. The DB editor works just like previous editors. Suggestions, comments and bug reports are welcomed and any suggested features will be reviewed and added as time allows.
Color coded
.
Red - You have your typical TABLE and FIELD (columns) sections.
Blue - Information about a particular TABLE, FIELD and DB file.
Yellow - Edit section. Click on a FIELD row, click on a FIELD name, edit the entry and press the "Go" button to make the changes active. (All of the edits are not permanent until you save the file, even if you change tables.)
FEATURES
The main key feature is that edits are done in memory and to do not take affect until you save the file.
Manual editing of FIELDS.
CSV
Export Table - Export current table.
Import Table - Import to current table.
Export All Tables - Exports all the tables in the db file.
Export Fra2Ros Tables - Exports the tables for a ROS file.
Addendum - This is a very specific import option, please use caution. Let's assume you want to add the current win/los records only. You would load the TEAM table and if you have the main 32 teams, bears-vikings then the addendum csv file would have the field names for the win/loss and the win/loss for each team.
Some FIELD Types cannot be edited and that is not a DB editor issue, it is how the TDBAccess.dll has it. Be aware of the FIELD size (Bits) as you will encounter an error if you go over its limit. (Unsupported FIELD Types are tdbBinary, tdbVarchar and tdbLongVarchar)
The DB editor can read the rosters, franchise and db files you are accustom too, plus some Madden 19 files like the roster. (Removing the FBChunks section is required before opening the roster in the DB editor.)
Use at your own risk, no "customer support", backup your files.
Madden DB Editor v2.7
http://www.mediafire.com/file/iapwn1fsm8045mh/MaddenDBEditor2.7a.zip/file
Bugs fixed:
When importing a CSV that exceeded the current field count the editor encountered an error. That has been fixed. You can now export all tables from one roster version to another roster version with very little effort.
Note: the order of the imported fields does not need to match the current field order.
When importing a record a blank record would be imported instead. That has been fixed.
Madden DB Editor v2.5
https://www.mediafire.com/file/d12ql1qqlwscgz3/MaddenEditor2.5.zip/file
MADDEN DB EDITOR v2.5
=====================
v2.5
---------------------
some features were removed/added.
the ParamError defaults to 0 if a non numerical character is detected in the import process. you can set it to use the maximum value but it is not advised.
Some bug fixes like the SAVE function now saves instead of having to close the db file before saving.
the db editor now supports a definition.def file. hover your mouse over a field to display the tooltip definition.
the first row must contain "DEFINITIONS, 0" which can be opened with a spreadsheet. the definitions are courtesy of the "Definition File Update" thread by valvegas.
the definitions can also be broken down by table definitions. for example a PLAY table definition can be designed were only the PLAY table will have definitions. the first row must contain the table name.
the db editor now supports other db files with headers such as FBChuncks, MC02 and others...
MDB19 v2.2b
https://www.mediafire.com/file/iyht7ec20vbxou6/MDB19v2.2b.7z/file
Bug Fix:
There was an issue when you edited a cell value and then tried sorting the column, the editor would crash.
MDB19 v2.1b
https://www.mediafire.com/file/9569tbqg9g5j3zk/MDB19v2.1b.7z/file
Two bug fixes:
There was an issue where if you extracted all the tables with a bigendian file it would not extract correctly.
There was an issue where if you imported a CSV using a bigendian file, columns with names or words would not get imported.
MDB19 now fully supports Madden 19, 20 rosters.
MDB19 v2.0 Beta
https://www.mediafire.com/file/v7g1ykmi9t4x1d3/MDB19_v2.0b.7z/file
Added Export/Import Record(s). It allows the ability to export/import [x] number of records to the current table. When importing records the following fields are imported with the next available spot.
CITY: CYID
STAD: SGID
PLAY: PGID
TEAM: TGID
It's beta so there is no error check if you go over the table count. I'm thinking of adding an option to "Auto-Count" the mention TABLE and fields just in case you want to import records "as is". Hopefully the db editor will import team.dbt files just as in Madden in a future release.
For example you want to add a stadium from one roster to another roster (STADIUMS.dat and UIS_LIB_STADIUMS.dat must have said stadium), just export the stadium record from the roster and import to the roster you want the stadium to be in.
Or move players between rosters...
Special Thanks,
To StingRay68 for his insights, direction and for most of the heavy lifting in this project.